Reese Witherspoon And Husband Arrested In DUI Incident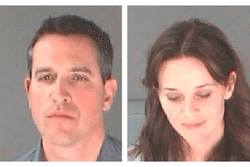 Actress Reese Witherspoon and her husband Jim Toth were both arrested following a DUI incident on April 19, 2013 in Atlanta Georgia. The incident occurred early Friday evening after a state patrol officer observed the vehicle being driven by Toth weaving in and out of lanes. After pulling the couple over, the officer noticed that Toth displayed several symptoms of alcohol intoxication such as red, glassy bloodshot eyes, droopy eyelids and had an odor of alcohol about him. According to the trooper, Toth admitted to having had a drink at a restaurant a couple hours prior to being pulled over.
In his report, the officer said that Witherspoon initially got out of the vehicle when her husband began performing a series of field sobriety tests, but got back in after being told by the officer to do so. The officer adds that when Witherspoon got out of the vehicle a second time, he told her she would be arrested if she did it again. It was at that time that the actress, who was intoxicated as well, began to hang out of the window saying she didn't believe he was a real officer. Officer Pyland wrote in his report, "I told Mrs. Witherspoon to sit on her butt and be quiet". After performing an alcohol breath test, Pyland found that Toth had a blood alcohol content (BAC) level of .139% and placed him under arrest for DUI. It was at that time that Reese Witherspoon got out of the car and asked the officer, "Do you know my name?", to which he replied, "No, I don't need to know your name right now". Then, Witherspoon told officer Pyland that he was about to find out who she was and that he'd be on national news. Pyland says "I advised Mrs. Witherspoon that was fine". Officer Pyland proceeded to arrest the actress as well and both were taken to jail. Witherspoon was charged with disorderly conduct and released in time to make it to a movie premiere on Sunday in New York.
Reese Witherspoon has since released a statement apologizing to the officer for her actions. In the statement, Witherspoon says "I clearly had one drink too many and I am deeply embarrassed about the things I said," Witherspoon said. "It was definitely a scary situation and I was frightened for my husband, but that is no excuse. I was disrespectful to the officer who was just doing his job. I have nothing but respect for the police and I'm very sorry for my behavior".
If you have been arrested for driving drunk, contact an experienced and skilled Georgia DUI attorney for legal assistance.

January 29, 2016