Comedian Kevin Hart Arrested For DUI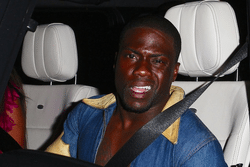 Actor and comedian Kevin Hart was arrested and charged with DUI around 4:30 am on April 14, 2013 in Los Angeles, California. Hart was pulled over after California Highway Patrol Officer Ed Jacobs observed him speeding on a freeway and nearly colliding with a gas tanker. According to the officer, Hart, who was also driving with an unnamed female passenger, was going more than 90 mph and driving erratically. After being pulled over, the patrol officer conducted a series of field sobriety tests, which Kevin Hart failed before being arrested for DUI.
The female passenger was sent home in a taxi while Hart was taken to jail and released several hours later on a $5,000 bond. Shortly after his arrest, Hart took to his Twitter account to address the story, saying, "I'm officially a thug, I spent 6hrs in jail last night…I got pulled over 3blocks from my house by a d— head cop. This cop was the worst, he knew who I was &wanted to make a example out of me….". However, after the comedian's initial Tweets and jokes, he later returned to comment on the seriousness of the situation, saying "On some real s—….drinking &driving is not a game or a laughing matter. People have lost lives because of stupid s— this! This is a wake up call for me, I have to be smarter &last night I wasn't….everything happens for a reason….".
If you have been arrested for driving drunk, contact an experienced and skilled California DUI attorney for legal assistance.

January 29, 2016